In my (relatively) short time paying attention to Michigan sports, basketball has always played second fiddle to football. The Ellerbe years were, safe to say, "unremarkable" (see non-existent NOPE THEY NEVER HAPPENED), and the Amaker era was a frustrating series of close but no cigar fiascos. Talented players like Daniel Horton, Dion Harris, Lester Abram, Bernard Robinson, Jr., etc. showed flashes of tantalizing brilliance, but only flashes, and the actual coaching of the team was circumspect at best. In moments of weakness, I (and many others I'm sure) have watched certain possessions of the Beilein era, where the ball is passed around the perimeter for 30 seconds before an ill-advised three* and thought "Amaker. Insert platitudes about Rome not being built in a day here...despite all the flaws of the Amaker era, it was the bridge between non-existence and what we have now. What do we have now?
*Just for clarity's sake, I support Coach Beilein 100%. There it is.
----------------
In my middle school years, Daniel Horton was the leader of Michigan basketball. Regardless of what he's said recently, he was my favorite player, and I admired his ability to take over a game. He was, as I remember, the polar opposite of our current floor general. His droopy eyes and calm I got this demeanor belied an inner fire; every time he stepped to the line, I thought he was going to fall asleep. I remember imitating his style in my own play, appearing disinterested as possible while giving it everything I had. When I made a shot, I wouldn't say a thing about it during or after the game; it was just another shot. Daniel Horton made this his operating philosophy, and he did it as well as he could have been expected to. He was a man sleepwalking across the court in his four-year career, and it just so happened that he could play better in his sleep than most could awake. In the end, if the basic infrastructure of any venture is crudely built and reliant on "out-talenting" others when your talent is good but not top 10 good, the venture is doomed to topple like a Jenga tower if pressed just so. And that was the Amaker era. A Jenga tower that stood for only so long before a bad loss at the end of the season and/or in the Big Ten Tournament sent it crashing down, the pieces strewn across the floor here and there in a mosaic of inadequacy. To understand what we have now, we must now what we had before (or, what we didn't have).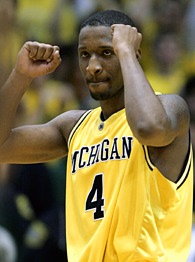 Many will argue that Zack Novak is the "leader" of this current model of Michigan basketball, and while that may or may not be true, basketball is a game which takes on the personality of its floor general more often than not (especially if that person is, you know, pretty good). Darius Morris represents the absolute antithesis of Daniel Horton. Horton was a great player in his own right, but it is difficult to say that even at this point in Darius's career, he is the better player, and, more importantly, more capable of leading this team to places that Horton could not for whatever reason. Horton for subdued and quasi-lethargic, a threat from behind the 3-point line and an excellent free throw shooter. Darius Morris, on the other hand, is fiery, irascible, and as close to Fab Five level trash talking since, well, the Fab Five. His outside shot needs work and he's an about average free throw shooter, but his ability to penetrate and find the open man (see: Morgan, Jordan) have made him one of the most dynamic, if not the most dynamic, Michigan basketball player in recent years. He is an expletive-wielding freelancer who does things forcefully, sometimes too forcefully, but not for lack of trying. He is awake as he can possibly be. Michigan is awake once again.
--------------------------
After the early season stretch against the likes of Purdue, Wisconsin, OSU, and Kansas, I braced myself for a trip to the NIT. Then Indiana, Northwestern, and Minnesota (for which I was unfortunately in attendance), and Michigan was on life support. It cannot be understated how truly impressive it is that this Michigan team was able to dig themselves out from such a hole, one so deep that only the fainest rays of light were capable of shining through to the bottom. Things were bad. Losing to those teams the way that we did was not only embarrassing but possibly psychologically debilitating for a team of a feebler makeup. The Michigan State game happened, and then we all know the story from there. If you were to look at the schedule without having watched any of the games, you could say that Michigan did exactly what they were supposed to do: beat the teams they're "supposed" to be beat (a short list even after that cathartic road victory against the Spartans) and hang tough with the cream of the crop.
With the entire team (knock on wood) coming back next year--and the infusion of fresh talent from the incoming class--some of those losses will turn into wins because they have to. Then again, we all thought the same thing in 2009. Of course, I am of the opinion that this time is different. We have some impressive, driven talent on this roster, and that's not even including the inevitable development of players like Evan Smotrycz mental aspect of the game), Jon Horford (weight room), Jordan Morgan (post moves and maybe a short jump shot?), etc. There is once again reason to be excited. Dare I say it, for the first time in a long time the hype surrounding Michigan basketball's next season is comparable to that of the squad that plays on Saturdays.
Of course, playing Duke as opposed to any other big time team has its role in the hype train picking up speed like Darius Morris galloping down the court. This team still has flaws (much like any young, senior-less team), but there are many months of practice and time in the weight room before this team hits the floor again. Once they do, it'll be something to see. It's time to awaken, to get out of bed and see what the world's about. I have a feeling there are some nice things out there to be had.