General Outlook
Michigan looks to bounce back from a mugging received in East Lansing* by notching a road victory against the hapless Cornhuskers. Unfortunately, Michigan cannot play anything less than their best or they will come away with a faith-shaking, regular season title chance-killing loss. The most impressive win of Nebraska's season was, as you may know, a
defeat of #13 Indiana in Lincoln
. I'm sure that Beilein will make sure to mention this more than once and the Mayor of Gritville will be running around the locker room periodically screaming at folks to remind them of the very serious business at hand. Bacari Alexander will almost assuredly manage to incorporate a Lincoln corn maze into an elaborate pre-game motivational ploy.
Michigan will need to live by the college basketball mantra of TISNSTAAFW: There Is No Such Thing As A Free Win.
With that said, Nebraska is a pretty horrible basketball team. They are 11th in the conference, having dropped off a bit after a relatively successful 2010-11 campaign, in which they went 19-13 before deciding to get out of Dodge for the greener, Velveeta-rich pastures of the Big Ten. The Huskers are 11-11 (3-8), with conference wins over PSU, Indiana, and @Iowa. Unless the Huskers go on a tear, they will not even be on the NIT bubble.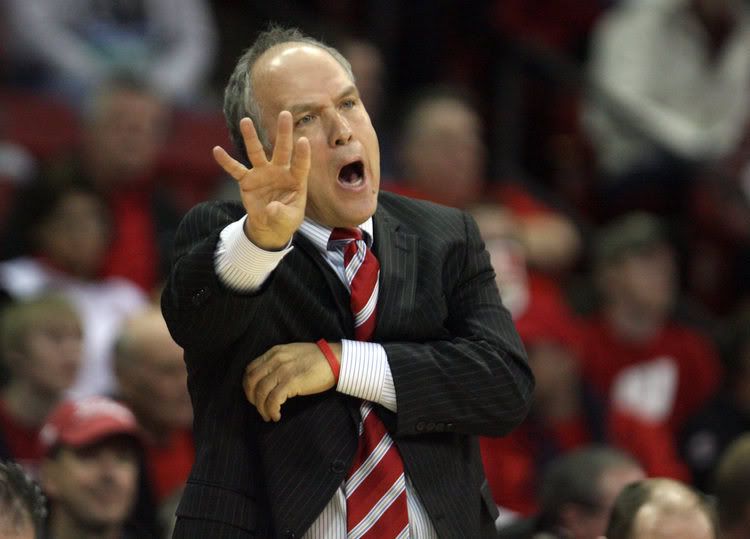 Nebraska HC Doc Sadler, somehow didn't parlay that name into a
(Mary Langenfield, US PRESSWIRE)
Going .500 in conference would ostensibly get Michigan in the Big Dance (obviously you would hope that they do more than the bare minimum), and wins against the dregs of the conference--Nebraska today and PSU to end the season--would accomplish just that. This is another one of those "must win because you're playing somebody terrible and can't afford to lose" sort of outings.
*"The Mugging in East Lansing" definitely sounds like it could be a straight-to-DVD thriller featuring Liam Neeson neck chopping every single person in East Lansing as revenge for something something.
The Offense
Statistically, Nebraska isn't as bad on defense as you might have imagined. They are giving up a respectable 64.8 ppg (only 8th best in the conference but 110th nationally), but, as usual, tempo has a major role to play in making the numbers not reflect a harsher reality. Only Michigan and Wisconsin play at a slower pace; the Huskers take care to not be hasty. Although the Huskers were actually pretty good through the first 6 conference games, they have been
giving up 76.2 ppg through the last 4
.
Sadler is a defense first coach, and there's little doubt that the Huskers will be prepared for Michigan's backdoor cuts and 3-point shooting after taking on Northwestern last week. However, the Huskers don't really don't really seem to do anything exceedingly well. They are a middling to below average steals and blocks team, averaging 6.6 and 3.1 per game, respectively, putting them near the bottom third of the conference in both. Point guard Bo Spencer (an LSU transfer who sat out the 2010-11 season), leads the team in steals (1.4 spg), so Trey et al will still need to be vigilant on the perimeter. Basically, all of this suggests a high-effort team that doesn't really do anything flashy but protects its defense by slowing the game down as much as possible. From what I've seen, they do play some zone, and we should expect to see it if Michigan proves that they can't shoot their way out of it.
Nebraska trots out a starting five of McCray, Ubel, Spencer, Richardson, and Walker, i.e. 4 guards and one big (Ubel). Other than Ubel, who is listed at 6'10'', they have very little in the way of size, as the other guards are 6'6'', 6'4'', 6'2'', and 6'0''. Nebraska's other big, the 6'11 Jorge Brian Diaz,
looks to be out for the year
, and he did not play in Nebraska's last game (a home loss against Minnesota). He was averaging about 2 blocks per game and 8.6 points, so that is a not insignificant loss. Other than Morgan on Ubel, there won't be any significant size disadvantages. I'd like to see Novak get some time at the 3 with Smotrycz at the four; for some reason I feel like this game could be a funk-breaker for Evan.
Otherwise, Spencer is a senior that should provide a solid challenge for Trey, but is far from unbeatable. This Nebraska team has such little size and depth that this should be one of only a few games in which Michigan will see some offensive rebounds come their way. The Huskers have quite literally rebounded the ball as many times as their opponents have (well, almost--693 to 692 on the season), giving them a tidy but not very good rebounding margin of .0 (Michigan is at .4). They average 9.3 offensive rebounds a game, half a board better than Michigan's turrible 8.8 per. So, these teams are very similar vis-a-vis their relative rebounding prowess (i.e. neither team is good at it).
The Defense
Michigan isn't exactly lighting up on the scoreboard, but the Huskers are averaging an anemic 62.2 ppg (second worst in the conference). The aforementioned Bo Spencer and 6'6'' Toney McCray--who figures to be Stu's matchup--are the only two averaging double-digit points (15.5 and 10.5 ppg, respectively). The rest of the starting--Richardson, Ubel, and Walker--average 7.4, 6.2, 6.7 per game, and Dylan Talley comes off of the bench averaging 9.1 ppg, good for third best on the team.
Bo Spencer, 3-point shooting enthusiast
As expected, the Huskers are not a threat from 3 (32.6% as a team, good for 10th in the conference). Talley and Richardson shoot it respectably well (35% and 39%), but Spencer shoots by far the most 3s on the team and seems to not be very good at it (31% on a whopping 130 attempts, less attempts within the conference than only John Shurna, THJ*, D.J. Richardson, and Ryne Smith).
There's not much to say here other than Michigan simply needs to lock down and play solid defense. Nebraska doesn't shoot the 3 well, produces second chances at a lower rate than we do, and doesn't really have a dangerous post-up guy. Spencer is a solid player but doesn't seem to be very efficient, which is understandable given that this is a team with not all that much pure scoring ability. The only way I see Michigan getting owned here is if Spencer decides to go all Brandon Paul on us and Michigan hands them points via turnovers. Otherwise, Nebraska's probably only scoring anywhere from 55 to 63 or so.
*Sad face goes here.
Who/What To Watch
Burke vs. Spencer on the defensive end.
Smotrycz vs. his own debilitating lack of confidence. Nebraska's lack of size, athleticism, and general what-have-you combined with a gut feeling of mine makes me believe that Smotrycz will have his best game since the non-conference ended.
Nebraska opponents having been shooting the 3 at 33.9%, which is not too far from Michigan's team average of 34.5%. If Michigan can shoot in the vicinity of their average, I have a hard time seeing Michigan dropping this game.
Meaningless Prediction
Michigan's struggles on the road are well-documented. You know they are because I spent a non-zero amount of seconds thinking about the outcome of this game. With that said, Nebraska is not very good. They're not even on Iowa's level (despite beating them), who handed us an ugly road loss not too long ago.
Michigan will bounce back nicely, with Smotrycz pitching in a surprise 13 points. It won't necessarily be pretty given the pace these teams play with (or lack thereof), but I think Michigan gets the job done on the road.
Michigan 65, Nebraska 59.