A pretty self-explanatory concept: I'll run through the Big Ten match-ups each week with a blurb of varying length and a prediction that's doomed to be incredibly wrong. If you're debating whether or not to watch football this weekend or to watch ALL THE FOOTBALL...I suggest the latter, and
here's some help
. Home teams in bold.
Around the Big Ten
-Michigan
-Western Michigan (3:30 ET): I already had my say in my predictions post, but Michigan rolls. Carder is a good quarterback but I seem to remember similar worries in 2009 going into the Western game about Tim Hiller, and we all know how that turned out.
-Wisconsin-UNLV (Thursday 9/1, 8 ET): The Badgers host UNLV, a team that went 2-11 last year (Wisconsin also played them last year, winning 41-21). This should be a fairly easy win for Wisconsin, and it will be worth watching just to see how Russell Wilson looks as the new signal caller for the Badgers. Montee Ball and James White should rack up enough yards to be able to take most of the second half off.
-Michigan State-Youngstown State (7:30 ET, BTN): Another probable blowout game (if not then the Spartans have issues). Michigan State's issues on the offensive line are well-documented, so if the Spartans struggle in any way to run the ball or generally get wherever they want to on the field then those said issues will linger and intensify as the level of competition goes up.
-Ohio State-Akron (12:00 ET): This will be another blowout, but could be a game where the Buckeyes come out slow, only to finish with a score that is somewhat unimpressive but still a comfortable win. Bauserman has gotten the nod to receive the first snap but Miller figures to be in the mix for some playing time. Obviously Miller has a long way to go (otherwise he'd be the starter right now over a frankly unimpressive player like Bauserman), so it will be interesting to see if the fanbase begins to clamor for Miller if he shows Bauserman up in these first two cupcake games.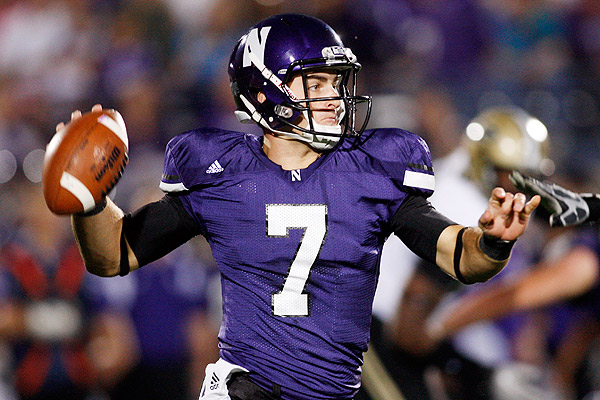 NU senior quarterback Dan Persa
-Northwestern-Boston College (12:00 ET): Finally, a legitimately interesting matchup...is Dan
Persa healthy? The progress he has made in the rehabilitation of an injured Achilles will determine
how NU's season unfolds. BC is not exactly anything special, but they do return 9 starters on
a pretty good defense (only gave up 18.5 ppg in 2010). BC will be without star tailback Montel Harris for this one, who is out with a knee injury...this combined with a young quarterback who had a pretty terrible 2010 means that NU should have a decent shot to win this one, even if Persa isn't 100%.
-Indiana State-Penn State (12:00 ET, BTN): Like the OSU game, shouldn't be competitive but worth keeping an eye on how the quarterbacks look (i.e., McGloin vs. Bolden).
-Middle Tennessee-Purdue (12:00 ET, BTN): Purdue is not going to be very good this year, but Middle Tennessee was 6-7 last year, and they return a mere 3 starters on defense. While the Boilermakers don't have much at all in terms of offensive firepower, if they're going to produce then this is the game you'd think they'd do it. With Henry out, it's worth keeping an eye on how Marve performs.
-Chattanooga-Nebraska (12:00 ET): Another snoozer. Why are you watching this game? Don't watch this game.
-Minnesota-USC (3:30 ET): This might be worth watching three or four years down the road after a few years of Kill...not right now, though. This isn't the USC of old, but Minnesota is even worse than Purdue. The Gophers kept it sort of close on paper last year (losing 21-32), but by now Barkley should have metamorphosed into the standard laser-tossing USC future first round pick quarterback that people on the West Coast have been waiting to see.
-Illinois-Arkansas State: If you'll remember, Arkansas State was of one two non-conference creampuffs to give an actually pretty good Iowa team a scare in 2009 (Iowa won 24-21)...ASU returns most of a terrible defense, as well as almost all of their primary offensive skill players. Any sort of struggle will reflect extremely poorly on the Illini, particularly on the defensive side of the ball as they attempt to replace Martez Wilson and Corey Liuget.
Iowa-Tennessee Tech (12:00 ET): Another game you shouldn't be watching in even the most dire of circumstances.
-Indiana-Ball State (Lucas Oil Stadium, 7:00 ET): Not sure why this clash of the titans of the state of Indiana is being played in the home of the Colts, but it is. Indiana being Indiana, this could easily be one of the Big Ten's losses this weekend. I will say that I like Kevin Wilson, and I think it would be pretty cool if Indiana at least became semi-competitive.
Baylor quarterback Robert Griffin III (via SI)
Around the Country
-
TCU-
Baylor
(8:00 ET): TCU heads to Waco to face a Baylor team that had an okay 2010 (well, pretty good by the standards of the last 10 years or so for them). Baylor returns Robert Griffin III at quarterback, so this could very easily turn out to be the upset of the week if the Horned Frogs aren't careful. TCU is breaking in a
new signal caller in Casey Pachall
, so we'll see how this one goes.
-UCLA-Houston (3:30 ET): This isn't a game you're going to watch given that it runs at the same time as the Michigan game, but a loss here could be one of the first nails in the coffin for the Neuheisel era at UCLA. Houston has returned quarterback Case Keenum for one more year after he was knocked out for the year with an ACL injury in the third game against UCLA.
-Oregon-LSU (Cowboys Stadium, 8:00 ET): One of two huge primetime matchups this weekend. The crowd will most likely be highly pro-LSU, which should make things difficult for the Ducks. Cliff Harris missing this one is a huge loss, however I don't find Jordan Jefferson's absence to be too troubling a proposition for the Tigers. I think the Ducks win the PAC 12, but they won't win this game, as LSU will use the home crowd and their defense (one that is much better than the Auburn defense that stifled Oregon in January) to frustrate the Oregon offensive machine, while manufacturing enough points off of adrenaline and Les Miles's grass-inspired genius. Oregon is a better team in the grand scheme of thing, but being "better" doesn't mean anything when you're standing across the sidelines from a guy like Les Miles, who's about to spin off this planet like Gary Busey at any moment.
-Georgia-Boise State (Georgia Dome, 8:00 ET): As much hype as Boise State gets in this one...do people not remember the last time these two teams faced off? Sure, last time it was in Sanford Stadium, but this one will be played in Atlanta, making it a de facto home game for UGA. UGA returns 7 starters on a defense that
gave up 22 ppg last year, and they add talented freshman tailback Isaiah Crowell to the mix
on offense; while I'm not sure that he'll have the impact that Lattimore had for South Carolina last year, he will be a good one and he'll get the chance to prove it early. Aaron Murray is another player that I really like, and he should continue to develop (barring a Henne-esque sophomore slump) even without AJ Green. UGA wins this one with the Georgia Dome crowd behind them and a balanced offensive attack, while also doing enough to stop the run and force Kellen Moore into some mistakes. And thus will end the talk of Boise State's national title hopes in 2011.