After Michigan lost in frustrating fashion yet again (at least this year's losses look "better" than last year's? PROGRESS), I sort of shut it down until the Game of the Century of the Week of the Day of the Primetime Slot...so, certain impressions should be taken with a grain of salt. While the aforementioned inspired a wide range of opinions, ranging from "THAT'S JUST GOOD OLD FASHIONED FOOTBAW" to "this is about as unpleasant as dubstep*," takeaway numero uno of course comes from the mad genius that is LSUFreek (HT:
EDSBS
):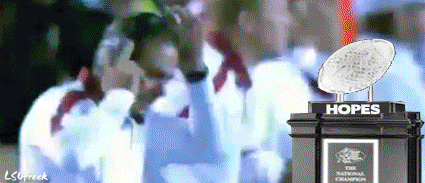 If you were one of the two people to not to watch this game, this is about as brilliant a recap as you'll find.
*FWIW, I think it's somewhere in between, as are most things pincered by two competing axes of irrational hyperbole.
| | |
| --- | --- |
| | |
| | |
| | |
| | |
| | |
| | |
| | |
| | |
| | |
| | |
| | |
| | |
| | |
| | |
| | Michigan State |
| | Wisconsin |
| | Georgia |
| | Texas |
| | Kansas State |
| | Georgia Tech |
| | Houston |
| | |
| | Michigan |
| | Southern Miss |
| | |
| | |
The Big Ten continued to live by the motto "A Commitment to Derpcellence"...nothing new here. Nebraska and Michigan both lost to horrible teams and Ohio State and Michigan State both struggled against Indiana and Minnesota respectively. The Big Ten has turned into the melting pot of bubbling mediocrity that is the ACC/Big East. Sadly, Michigan probably officially derped away its potential ticket to Lucas Oil this weekend unless some ridiculous things happen.
LSU-Alabama...that happened. I won't say that it was a completely unentertaining game because it wasn't, but it wasn't the paragon of football excellence that many folks below the Mason-Dixon line are hailing it to be. Alabama's position ahead of Stanford is the definition of temporary, as the latter will have their chance to move up in the coming weeks.
Georgia continues to chug along under the radar...despite having no tailbacks, they dismantled NMSU (as they should have), with the hedges posing a more significant danger to Bulldog players than NMSU defenders did. Assuming they make it to Atlanta (I'm very bearish on South Carolina), I don't think they really have a shot at beating LSU but I wouldn't be surprised if they kept it close. That defense is good enough to keep LSU's not very flashy offense in check enough to keep it interesting. We'll see.
Man is Oklahoma State fun to watch but that defense is just horrid. This is the #2 team in the nation? Goodness. They've got two IT'S A TRAP type games coming up in Lubbock and Ames before Bedlam and a Broyles-less Oklahoma. An LSU-Oklahoma State title game would provide some interesting immovable object vs. unstoppable force storylines...right up until the game is actually played, when LSU would likely throttle them. Of course, the next few weeks will inevitably render this prediction moot.
Southern Miss, Baylor, Auburn...yes, I was certainly making things up at that point.
Dear Michigan: please officially make this year not last year by winning in Champaign. Also, oddsmakers, please don't make Michigan a favorite. These are my humble requests.