Its only the greatest rivalry in sports. When these two colleges face off it is called "The Game," and it has been the regular season finale all but three times since 1935. Michigan and OSU have met 108 times. Michigan leads to series 58-44-6. The Big Ten Championship has been decided by The Game 22 times.
The numbers do not say the whole story in this rivalry. Michigan and Ohio are natural rivals akin to cats and dogs. Starting in 1934, any time Ohio State beats Michigan every OSU player receives a gold pants pendant. In 1950, Ohio State had the option to cancel the game against Michigan due to weather, but they refused. Even though Michigan didn't complete a pass or a first down, they blocked two punts (one for a touchdown and one for a safety), and Michigan won the Snow Bowl 9-3. The "Snow Bowl" lead to Woody Hayes being hired as Ohio State's head coach. In 1968, Ohio State was winning 50-14 late in the fourth quarter, and they decided to go for a two-point conversion. Woody Hayes supposedly said that he went for two points "Because [he] couldn't go for three."Bump Elliott resigned after the game, and Bo Schembechler was hired. Riding a 22 game winning streak, Ohio State came into Ann Arbor to play against Bo's first Michigan team. The Wolverines won 24-12. During this decade, Woody Hayes coined phrases such as "That team up north" so he would not have to say Michigan. Once Hayes retired, the rivalry became less about the coaches feud, and more about play on the field. Both teams have had long win streaks back and forth including OSU's seven game* win streak, which was ended by Michigan last year.
When did we see them last?
Last season, Luke Fickell's Ohio State Buckeyes entered the Big House with a 6-5 record. After Rich Rodriguez was fired and Jim Tressel was forced to resign, the 2011 match up became the third time in history that two first year coaches lead their teams onto the field for "The Game." Ohio State received the ball to start the game, and took advantage. Braxton Miller completed a 54 yard pass over Blake Countess to Corey Brown for a touchdown. After two three and outs, Michigan got the ball in Ohio State territory. Two plays later, Denard Robinson ran for a 41 yard touchdown. On Ohio State's next possession, the Buckeyes were doomed by penalties. Holding on Zach Boren, false start on Jack Mewhort, and holding in the end zone by Mike Adams gave Michigan a safety and a 9-7 lead. After the free kick, Michigan had good field position, and again took advantage of it. Denard threw a perfect pass to Junior Hemingway for the touchdown.
In the second quarter, Ohio State kicked a field goal. Three plays later Ryan Shazier forced a Denard Robinson fumble. The Buckeyes converted the turnover into a 19 yard Braxton Miller rushing touchdown. The Wolverines responded with a nine play 80 yard drive capped off with a Denard 6 yard touchdown run. Again, Michigan's secondary was unable to contain Ohio State's wide receivers, as DeVier Posey got great separation from Troy Woolfolk, and scored on a 43 yard reception.
Michigan received the ball after halftime, and marched down the field. On third and eleven, Denard had all the time in the world, and found Martavious Odoms for a 20 yard touchdown. Later in the third quarter, Will Hagerup fumbled the snap on a punt, which lead to the funniest* .gif of the season:
*Only because we won...
After the fumble, Ohio State hit a field goal to put the Buckeyes within 3. On the next possession, Michigan scored on a pass from Denard to Kevin Koger. Ohio State got the ball on their own 20 yard line, but Braxton Miller went into super quarterback mode, and completed three straight passes to get the Buckeyes to the Michigan 4, where Boom Herron waltzed in for the touchdown. Michigan, trying to protect their three point lead, drove the length of the field. Fitzgerald Toussaint ran what seemed to be a touchdown, which would have essentially put the game away. Look for yourself:
The referees decided there was no evidence to call this a touchdown, and rather than score from the one yard line, Michigan responded with a Patrick Omameh holding call and a personal foul, which pushed the Wolverines back to the 26 yard line for 3rd and goal. Brendan Gibbons ended up kicking a field goal to give the Wolverines an uncomfortable 6 point lead with 2 minutes left in the game. After moving fifteen yard forward, the Buckeyes faced fourth and six from their own 35 yard line. Braxton Miller dropped back to pass, and was picked off by Courtney Avery. A Denard Robinson kneel later, and Michigan defeated Ohio State.
What do they look like?
When I typed "Ohio State Uniforms" into Google, I saw this:
Of the twenty pictures on that page, only four show Ohio State's "classic" uniforms. Ohio State's colors are Scarlet and Grey. Their home uniform is scarlet with grey pants and their away uniform is white with grey pants. Their helmet is grey with a red stripe. A very boring helmet early in the year, but slightly more exciting at the end. That is unless Nike decided to mess with their uniforms that week. In recent seasons, when Michigan has faced OSU, they have worn some variations with Nike's Pro Combat Uniforms. Two years ago, they wore this at home, and the year before they wore this in the Big House. Luckily, last year, Nike decided to have Ohio State wear their newatrocities against Wisconsin. Ohio State just came out with new uniforms that they will wear for the Michigan game this season. They look similar enough to their normal jerseys that I can't complain too much.
Have they won any Big Ten or National Championships?
Ohio State has seven recognized National Championships. Five of the championships came between 1954 and 1970 under Woody Hayes. They won most recently in 2002 under Jim Tressel in a controversial victory over Miami (YTM). They also have won 34 Big Ten Championships, including all of the last six years (Although last year's was vacated).
Have they had good coaches?
Since I discussed Hayes earlier, I'll focus on the 2000s here. Jim Tressel was hired as head coach by Ohio State in 2001. Previously he worked at Miami (NTM), Syracuse, and Ohio State as an offensive position coach. From 1986-2000 he was the head coach at Youngstown State. As coach for the Youngstown State Penguins, Tressel had a 135-57-2 record. He was then hired by Ohio State after John Cooper was fired. At Ohio State he went 94-22 including six conference championships and one National Championship. Amidst violations Tressel resigned as head coach on May 30, 2011. Ohio State needed a new coach quickly, so they hired Co-Defensive Coordinator and Linebackers Coach, Luke Fickell. Fickell went 6-6 as head coach of the Buckeyes before Urban Meyer was hired directly after the Michigan game. OSU allowed Fickell to coach in the Gator Bowl against Florida, and was hired as Co-Defensive Coordinator under Meyer.
Urban Meyer has been a winner everywhere he has gone. He started his head coaching career at Bowling Green where he went 17-6 over two seasons before getting hired to take over at the University of Utah. The Utes went 10-2 in their first season under Meyer, and went 12-0 in the second. The undefeated season got Utah into the BCS. This was the first time that a non-automatic qualifier played in a BCS game. Before Meyer could coach in that Fiesta Bowl however, the University of Florida offered him a seven year $14 million contract. During his tenure at Florida, the Gators won two National Championships, went to a third BCS game (the 2010 Sugar Bowl), and had an overall record of 65-15. Florid went 5-1 in bowl games, with the one loss occurring in the 2008 Capital One Bowl against Michigan in Lloyd Carr's last game.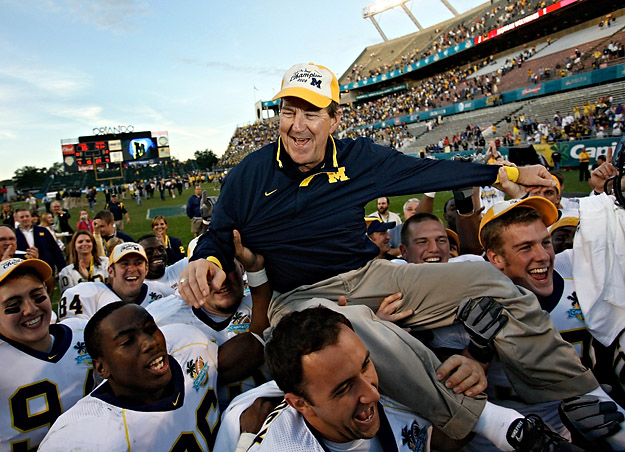 After the 2010 season, Urban Meyer retired from coaching, saying that he wanted to spend more time with his family, and improve his health. Urban worked for ESPN for one season before Ohio State came calling. He was offered a 6 year 24 million dollar deal plus $2.4 million in "retention payments." Since arriving in Columbus, he has done no wrong, starting his tenure 11-0 heading into the Michigan game.
Where do they play?
The Buckeyes play at Ohio Stadium in Columbus, Ohio. It has a capacity of 102,329, which makes it the fourth largest football stadium in the country. The Horseshoe was built in 1921, and it hosted its first game on October 7, 1922.
Do they really have the "Best Damn Band in the Land"?
Do they have a goofy mascot?
People from the state of Ohio are called Buckeyes. This is related to the Ohio State tree, the Buckeye. Brutus the Buckeye first appeared in 1965 as a papier-mache chocolate constructed by students. Its gotten slightly upgraded over the years, and is now in its most human form. Videos of Brutus:
Getting Beat Up by Rufus the Bobcat:
Not Handling Richard Simmons Workout Routine: