Nowhere to hide come draft time supplemental draft time
So, it's official
: Terrelle Pryor is no longer a Buckeye, having played his last game against the Mallett-led Razorbacks in the game of quarterbacks that got away. Has there even been a player that has affected both Michigan and Ohio State in every facet of his career? It starts from his decision to attend OSU over Michigan, leaks over into "what ifs" about the staying power of the Rich Rodriguez era at Michigan if RR had had a guy like Pryor running his offense from Day 1, and lastly and most obviously, the sanctions that are on the horizon as a result of Pryor's lack of respect for much of anything. As much as Pryor not choosing Michigan put RR behind from the start, it has thrown a rocket booster on Hoke's back as he zooms around from sea to shining sea, pointing at things and recruiting kids as if Noah filling up the Ark. Much more on who he'll be replaced by at a later date, but for now I'll just say the quarterback situation is not 2008 Michigan hopeless, but it's not exactly bright. Then again, when has OSU ever placed a high premium on elite QB play? Yeah.
I will say that I'm pretty shocked at how shocked some people are about this. Wasn't this basically inevitable? Can you imagine him sitting out five games and coming back to play (assuming Miller or somebody else hasn't secured the role) out the season with all that has come out and will continue to come out? It seems pretty ridiculous, and so Pryor made the only decision he could in this case.
Michigan's the 12th best job in America...
according to
Andy Staples of SI
. While it's a fruitless exercise to argue with one writer's opinion about a pretty nebulous thing like "best job," I think we can safely say that Michigan will be on the way into the top 10 and OSU will likely fall a few spots unless they make a slam dunk hire next year.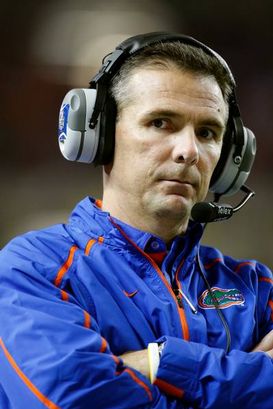 Staples writes:
Everyone in Ann Arbor seems to be behind Brady Hoke,

which is the only reason this job — which probably would have ranked near the top five 10 years ago — is this high on the list. … Hoke knows he is at a special place. Michigan doesn't have the recruiting base of an Ohio State, a Penn State or an SEC power, but it has a dedicated fan base and the resources to draw recruits from other parts of the country.
Nice little backhanded compliment there, but it's true, I guess. An RR program flaw has flipped on its head and become a major program plus under Hoke (re: fan support and/or overall atmosphere of the program). It sure will be nice to talk about Hoke as a coach rather than Hoke as recruiter or Michigan football's Abraham Lincoln.
On a general college football note, Richt's situation at Georgia will also be a point of interest this upcoming season. Another shaky year and he could be on the way out, despite how stupid it would be for them to fire him. The man can coach, it has just been his misfortune to have had to go head to head with Urban Meyer on a regular basis. Also, PSU at #8 seems a tad too high to me. ANYWAY.
Scheduling!
Kickoff times
for the Western and Eastern games have been announced (3:30 ET and noon, respectively). As a big time proponent of the 3:30 start in Michigan Stadium, I approve. It should serve as a nice warm-up for the Notre Dame night game (!), which will be a marathon of a day for all parties involved. Five games are now set, with the other two being @Northwestern (7 ET) and Purdue (noon). Only 87 more days to go...actually, that isn't that far away. Does anybody else feel like the Gator Bowl was a long, long time ago? Nah, probably just a coping mechanism.
Tressel Halftime Speech:
A brief behind-the-scenes peek at Jim Tressel in halftime speech mode during the Arkansas game. Tressel saying "ass" four times in little over a minute is about the equivalent of the average Ozzie Guillen curse-laden diatribe, relatively. The audio quality leaves a little to be desired but
a transcript is included
. This type of thing is always interesting, particularly in light of the recent revelations about Jim Tressel. That's not to say that cursing a few times makes him a bad person, it's just so at odds with the image he kept up for over a decade in Columbus.
Big Ten Coaches Sans Tressel:
Firstly, an interesting fact that I never really considered: Jim Tressel never won Big Ten Coach of the Year despite grabbing 70% of the last decade's conference titles. Pretty amazing but understandable given the absolute dominance that he enjoyed.
Rittenberg lays out the various arguments
for why Ferentz, Dantonio, Fitzgerald, and Pelini are now the most irreplaceable Big Ten head coach. I'd make a case for Fitzgerald given that he's a pretty darn good coach, not to mention ridiculously loyal. Although Fitzgerald seems to be more than happy with
coaching in Evanston for the long haul
, you can never say never. If he were to leave I think Northwestern might have a tough time retaining their status as that lower-middle tier team that nobody wants to play when they're playing their best.
Yes...it's Phil Steele time.
In addition to
picking Michigan to finish second to last
in the Legends division, there's
this
(HT: EDSBS)...and yes, Bama fans everywhere just took this opportunity to claim their 347th national championship. The collective redneck will of Bama fans is so strong that they inception'd themselves into Steele's normally sturdy mind when he made up that page. ROLL TAHD!