In light of Pryor's exit and the resulting black hole at quarterback position for the Buckeyes, I'd like to run down the roster of remaining quarterbacks (Bauserman, Guiton, Graham, and Miller) to get a feel for what we will be dealing with. I will make some predictions, and many of them will probably be wrong but it's June so I get a pass. This is simply an early look and is by no means comprehensive; however, in the interest of good, healthy "moving on," it would behoove us to know what we'll be up against. I'll start with what sounds like the best case scenario for an ailing Michigan defense: one Joe Bauserman.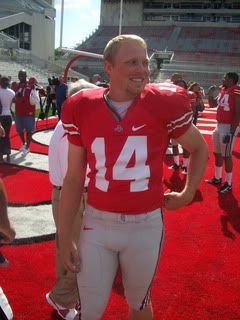 Spring QB situation fluff
The Basics
Joe Bauserman, a 6'1'' 230 pounder out of Strasburg, Va. started his Ohio State career as a walk-on in the 2007 season, in which the Buckeyes were eventually thumped by the Tigers of LSU in the national title game, 38-24. Bauserman was a 2-star prospect,
ranked the 55th best quarterback
in his class (2004) by Scout and a
3-star, 22nd best ranking on Rivals
. For a frame of reference, this put him one spot behind Curtis Painter and eight behind Michigan State's Brian Hoyer (this was of course the Henne class, in which he was ranked third behind Anthony Morelli and Rhett Bomar). He's already 25 years old, and has a few years of minor league baseball experience, having been drafted in 2004 by the Pittsburgh Pirates in the 4th round. Apparently that didn't work out, because it's been all football for Joe since 2007.
According to Ohio State's official athletics site, he has "an active arm and ability to make a variety of throws," which would make some sense given that he played baseball. In other relevant news, the "Buckeye Bits" section of his bio explains that he was "
third in [the] team bowling competition
." Yes, this is indeed important and relevant.
The Numbers
Well, there's not much at all on Bauserman statistically, obviously. Here are
his stats
: they're not even worth mentioning. So yes, he is old but that doesn't mean he is seasoned in any way. For what it's worth, he did throw touchdown passes against Purdue and Eastern Michigan this past season. There's not much to go on, but even if there was I don't think there'd be much to go on.
Spring Game Hype/Notes:
In OSU's Spring Game, held on April 23rd, Bauserman went:
4-of-11, playing with the first-team offensive line for his first series -- when he was sacked twice, took a delay of game penalty and was flushed again by Simon pressure -- and for his last series, when he threw his only touchdown.
Not exactly a great performance. The usual "it's the Spring Game" (actually, scrimmage) caveat applies, but he didn't do himself any favors. He did throw a touchdown, though.
According to The Plain Dealer:
He was the first quarterback to take the field for Saturday's Ohio State scrimmage, the last of 15 spring practices for the Buckeyes, but most fans probably wouldn't be disappointed if the 25-year-old former minor-league pitcher isn't the first quarterback out there against Akron on Sept. 3.
The Lantern
:
Joe Bauserman picked the wrong era to try to be Ohio State's quarterback.
Bauserman himself put a word in on his role in the QB race:
"People want excitement and the guy that they've never seen before is going to get them thinking about it," Bauserman said Saturday, speaking to reporters for the first time this spring. "It doesn't bother me. I feel like I can play at this level just as well as anybody else."
There are many other fluff-type stuff coming from Bauserman like the above, indicating that he is well aware that: a) he has come out of the spring without having secured the job and b) he represents the "unexciting" to the average Buckeye fan. Center Mike Brewster comes in
with some boilerplate praise
:
"Joe's a real solid guy. He knows the offense. He's going to make the smart play. That's what you want from your quarterback," Brewster said. "I think Joe will be the No. 1 probably going into camp and, you know, he's comfortable back there and that always makes you feel good if your quarterback knows everything about the offense."
This is generally football speak for "talent-deficient" and "can't make a play."There is some mention of his mobility, which could help him some if he actually is able to make the smart play. With tailback Dan Herron and wideout DeVier Posey out, whoever the quarterback is will have to produce some on his own if the Buckeyes are going to escape the first 5 games unscathed. OSU has enough talent to do so, but does Bauserman have what it takes to lift Ohio State's offense from mediocre (i.e., without Pryor, Posey, Herron, etc.) to competent?
Here's some more Spring fluff from the horse's mouth:
Pointless Prognostication:
Bauserman is a lose-lose proposition for the Buckeyes. Despite folks extolling him for his experience, he has played very little (and not a single meaningful snap to boot), and his Spring Scrimmage performance was far from impressive. While I don't want to lob any more criticism at Nick Sheridan, who did his best for Michigan, Bauserman does not seem to be much of an upgrade over Nick. Old+little game experience=a bad situation waiting to happen. We'll see how it progresses throughout the summer and into the fall, but as time goes on, the number of games I see Bauserman playing in before handing over the keys (ZING) to Miller/Guiton/Graham will probably drop. I see Bauserman getting in and managing the Bucks to a pair of uninspiring wins against Akron and Toledo before one of the aforementioned triumvirate takes over. He does have some size and ostensible mobility; he won't be Craig Krenzel (they're approximately the same size), but he could be a poor man's version. Bauserman is basically the default starter on September 3rd if Fickell prioritizes "experience" like a lot of coaches do. Unless somebody else makes a significant push in the fall, it's hard not to see Bauserman at least taking the first snaps of the 2011 season. Like '08 with the Pryor for Boeckman switch in the USC game, I see Miller taking over at some point during the Miami game.