Our third installment in the offseason fact-finding mission that is "learn about OSU quarterbacks not named Terrelle Pryor" is Taylor Graham. Like the
recently previewed Kenny Guiton
, Graham is a little bit of an unknown outside of OSU circles. A comprehensive recruiting profile from a Buckeye perspective can be found
here
.
The Basics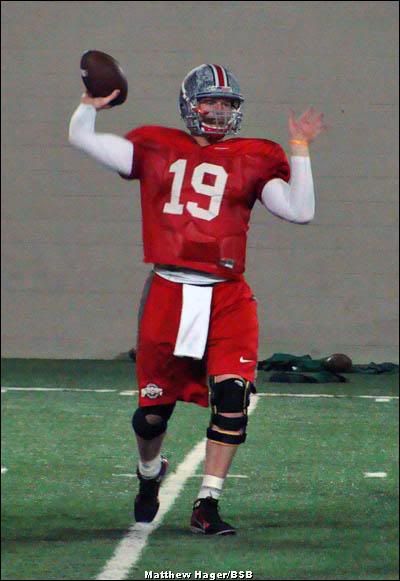 Graham is an imposing 6'4'' 230 Redshirt Freshman from Wheaton, IL. Some relevant information re: his high school career and injuries: his
junior and senior seasons were cut short by injuries
. To even get an OSU after all that seems a little...odd. But, as mentioned he does have the measurables, and could've just been a project and/or legacy recruit (
his father, Kent Graham
, was also an OSU signal caller, leading the Buckeyes to an 8-4 season and a 28-point loss in Ann Arbor).
Our Honor Defend
explains:
Graham, from Wheaton, Illinois and son of former Buckeye quarterback and NFL mainstay

Kent Graham

, is the lone quarterback of the 2010 class and, worth noting,

not

the first option on Ohio State's big board of quarterback recruits.
So, basically the Guiton-Boyd situation. A "stellar" camp performance netted Graham a seemingly desperate offer, not unlike Rich Rodriguez's mad dash at the the beginning of 2008 that ultimately netted a commitment from Justin Feagin (who was only debatably a quarterback, quite honestly). We swung and missed on Pryor* et al and OSU missed on Nick Montana and Andrew Hendrix. You'd expect Graham to be a middling three-star given this brief explanation of his recruitment, yet Rivals had him in his top 250 (
at #236, a four-star prospect
). Graham's size and pedigree alone seem to have been enough to merit an offer and an above average ranking from the scouts. The Rivals 250 list's blurb for him reads: "Son of former Ohio State quarterback Kent Graham." Graham also acquired offers from Wisconsin, Michigan State, and UCLA, among others.
Comes with standard annoying recruiting video music
The Numbers
The downward trend in sample size continues; Graham literally has none. In fact, due to the aforementioned injuries, he doesn't even have impressive high school stats. Having been redshirted in 2010, he has no OSU game reps to speak of.
Spring Game Hype/Notes
Graham finished the 2011 Spring Game with a ho-hum stat line:
4/9 for 91 yards
, with 68 of those coming on a single touchdown pass to the 6'5'' T.Y. Williams. Naturally, the first thing the announcers mention when he takes his first snap is that his dad is Kent Graham. Taylor Graham has got to be thinking "Guys, I'm perfectly capable of
running the company
playing quarterback at OSU. Stop talking about my 8th-round draft pick father, please."
Spring scrimmage footage:
Graham takes the field at 1:30, 5:00, and 10:40. Touchdown pass comes at 11:35; pretty nice pass that beats the corner and safety. Great touch, a good sign for a guy with a strong arm. Otherwise, Graham completed a few safe out routes, missed a back in the flats, had a pass deflected that should've been picked, and took several sacks in a display of immobility hearkens back to John Navarre. The sack at 2:08 is especially 2004 USC Rose Bowl-esque. The blitzer comes right up the middle unblocked, and you'd think Graham would see him but I guess not. Mobility is an issue to say the least, as he took a whopping five sacks in the scrimmage. On the plus side, he didn't turn the ball over.
Pointless Prognostication
Graham is basically Bauserman with an actual chance at being good. However, that doesn't mean he will actually ever play, and there's little to no chance he plays in any significant capacity in 2011 unless disaster strikes. Graham is a nice player to have waiting in the wings to serve as that 1-year transitional quarterback type a few years down the road. A strong arm and good size paired with little to no aggregate experience at the college and high school levels equals ain't going to play any time soon. If he does, look for relentless blitzing from opposing defensive coordinators that would make Manny Diaz blush. Graham strikes me as a very Todd Boeckman-esque type, if we're playing the
YMRMFSPA
game. Given Graham's family ties to Ohio State and his apparent love for the university, a transfer is ostensibly unlikely. Sticking around and hoping for a Braxton Miller early entry to the NFL and starting for a year is probably his best case scenario.
I'd look for Graham to get some garbage time snaps against Akron, Toledo, and IU**, racking up some relatively negligible numbers but giving him more college snaps than me, which is good.
*[insert "man we were lucky" talk here]
**IU football...still bad.