It was a year in which everybody, from #1 on down, was severely flawed, on probation, suffering the rocking waves of a coaching transition, or started Joe Bauserman. It was dysfunctional and crazy and, outside of Michigan's season, had an ending that was obviously a little bit unsatisfying. Yet, if you asked me to recall my memories of it 20 years down the road, I'm sure that I could reproduce the following with some level of consistency, while nothing of Generic NFL Season X will come to mind save "Oh, that's the season that my hapless Bears were terrible at everything."*
It was exciting, even through all its occasional senseless incompetence and Craig James being Craig James all over your television. Most importantly, it still manages to be so
fun
despite the unfairness and general stupidity of the system through which everything that happens from September through early January is so hamfistedly pushed. Despite all of the infrastructural flaws of the college game, I still find myself excitedly watching Utah State-Ohio play a meaningless bowl game on a blue field while yawning through field goal fests played on Sundays, where games played in Seattle and New Orleans and Green Bay are considered intimidating environments while relatively small college towns like Eugene, Auburn, Tuscaloosa, and yes, Ann Arbor, make all those place seem like they are emitting nothing louder than a cell phone alarm's irritating ringing on gameday.
If someone were to consume the 2011 college football season and vomit it out all over the place like it was a plate of oysters from NOLA's French Quarter, this is what you'd get: memes, haikus, and nostalgia.
*Also known as "every season."
Two thousand eleven
What a year it was this time
Let us talk about it
Hey, Wisconsin looks pretty good. Sure, it was UNLV but they have a quarterback now and not a handoff connoisseur. That defense though...that defense. Surely that won't come back to bite them at any point.
Click! (via, of course, LSUFreek, the illustrator of our times)


Wow...TCU. Gary Patterson, what happened? Here we introduce RGIII to the uninitiated masses (to be fair, uninitiated masses, he was pretty good all along). He's pretty good. TCU's defense not being TCU's defense is a signal that maybe things aren't going to be that normal this year. But, who knows at this point.
Cupcakes everywhere, little guys collecting paychecks for beatings as they face the Nelson Muntzs of the world. South Florida had other ideas. Utah State did too until Auburn realized that losing players to free agency is no excuse in major college football. On the other hand, how about Ohio State? Sure, they faced something called "Akron" but how about that Joe Bauserman...he surely does not look like a terrible person to have running your offense and/or flinging your hopes and dreams from a powerful but by and large completely inaccurate arm. Joe Bauserman is like the Needler in Halo; if that's what you're rolling with then expect to a) not hit anything ever and b) probably die.
Michigan comes out, looking indistinguishable from years past at first...but that changed quickly. Brandon Herron ran and people asked: "That's a linebacker?" Two brief moments, immortalized. Then the rain fell.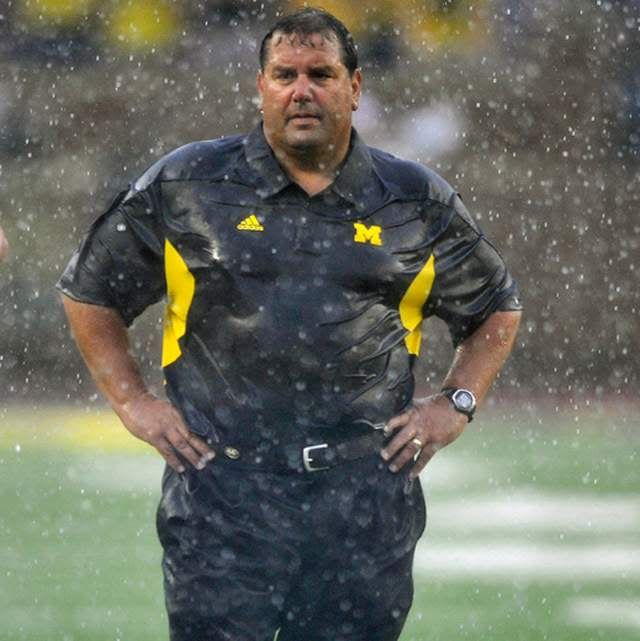 This blog was found via the search term "Brady Hoke wet" a disturbing number of times this season
Boise State traveled to enemy territory again; anytime, anywhere. But where the SEC was shamed in Atlanta, they rose to the occasion in Arlington. Chip Kelly looked across the sidelines and stared into the very maw of Chaos.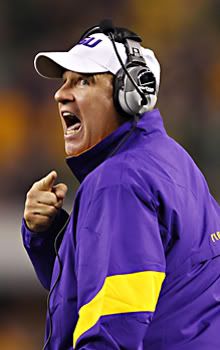 The week after first
Noon and three, no game is played
Because we play at night
Iowa falls...to the Men of Steele (sic). The Buckeyes stumble to a win against the Rockets of Toledo (
Not That Toledo
) as electron receiver Eric Page ran around Buckeye defenders with regularity, and one could tell that something wasn't right in Columbus (only this time that "something" was on the field). Auburn wins by inches; Mississippi State's preseason expectations, shot into the atmosphere on a vessel fueled by the tears of Michigan fans collected on January 1st 2011, collapsed somewhere in Auburn, Alabama, burnt to a crisp by the fiery descent and cast here and there, piecemeal. Some of the pieces can be find near the Auburn goal line, where the Tigers rebuffed further progress in the final seconds. Auburn scored 41 points, led by something called "Barrett Trotter", and Starkville pines for the days of Manny Diaz.
Minnesota lost again, and yet some things are more important than football.
Nick Saban and his defense of
No Country For Old Men
Javier Bardems traveled to Happy Valley. They thought the name, the word,
happy
, distasteful. Nick Saban, equipped with Bardem's weapon of choice--also known as Dont'a Hightower and the rest of the Alabama defense--efficiently eliminated all factors of resistance. Hightower stared down Penn State's two-headed quarterback monstrosity and said
heads or tails Friendo.
No matter what Bolden and McGloin said, the coin always landed with the other side facing up. After it was all done, he left the Valley like it was nothing more than a gas station pit stop on the unending highway of Fate.
Ah, Purdue. Like Bardem's coin, there are two sides to every happening.
Sometimes you live
,
sometimes you die
.
Mark Richt wonders how the seat beneath him got so hot; how quickly one's fate can turn on the actions of others, the prejudices of those outside of the proceedings. It seems
a hopeless situation
.
It was late. Carl Grapentine said "Good Morning." I smiled.
The week after second
Once champions were no more
The charade, over
Auburn loses to its mirror image, and in defeat cast aside the once champion's burden with a sigh. It was fun while it lasted. Northwestern loses, America wins. Indiana and Minnesota win, the relief palpable. Wisconsin continues to run over its foes with a reckless abandon; Bielema, unsated, consumes untold amounts of low-grade liquid cheese post-game to make up for meaningless points lost.
Michigan, a flawed entity still, won yet again, as Brady Hoke looked across to see a man coaching a team from the depths of nothingness, a man who once thought that maybe he'd start his head coaching journey...elsewhere. As uncontroversial as the game was, you couldn't help but feel a little bit sorry for the man, Ron English. Whether or not he was qualified or the most qualified for the job back when, having a dream and having someone say "no" to you and your dream...that is a bitter medicine.
Ohio State falls; Mister Kurtz's last words were surely a presciently grim nod to the Buckeye passing game. THE HORROR.
Florida State:
I believed in you
. I really, really did. You and Notre Dame continue to disappoint large segments of the American populace every year on the basis of the results of the distant past and recent upticks in competency, those being 10-4 and 8-5 seasons respectively. The fact that these two teams will play each other in a bowl game is so thematically appropriate. Welcome to the Endless Disappointment Bowl, Sponsored By The Writers of the Last Several Seasons of
The Office
.
The week after third
Rocky Long and Company
Come to lose a game
I returned once again to watch the Wolverines. It was a warm, sunny day. The echoes of two weeks prior rung about the stadium, and because things were far more subdued you could hear them if you listened close. Whenever I try to recall that game, a mental video of Ryan Van Bergen running through my line of sight to tackle Ronnie Hillman from behind--and force a fumble--is what comes to mind first. A relentlessness that mitigated all other shortcomings was evident in every play. Even then it was clear that this was a different team; it was still in that awkward teen phase, but you could tell that we'd see great leaps being made very soon.
Toledo and Syracuse played a game;
Syracuse "won."
LSU traveled to Morgantown to face a revamped WVU team, who ousted the cranky Bill Stewart for the offensive-minded, "eccentric" Dana Holgorsen. As they left, having won by 26, Les Miles burned all the couches for the locals as what he thought was a favor, clapping as the team bus pulled out of town, his nose stuck to the window like a dog, as he admired all the lights.
The week after fourth
Badgers forced to play a team
Goes bad for a team
Texas A&M falls to the Hogs in Arlington in the final minutes. Surely this is a fluke.
Auburn leaves Columbia, and after everyone has left Willaims-Brice Stadium, one can find the visor-shaped indents on the turf near the Gamecock sideline. Stephen Garcia, why? Ever the philosopher, he deflects the criticism with a forceful, constitutional apathy:
chill, bros.
Clemson is 5-0. Clemson just won in Blacksburg. Clemson is 5-0. CLEMSON IS 5-0.
The Tide rolled through Gainesville, leaving no survivors. They crushed poor John Brantley, then they crushed Florida's will...and by "they" I mean Trent Richardson, whose S&C staff doesn't allow him to up his weight room stats for the very same reasons that Cyclops isn't allowed take off his visor.
Ohio State and Michigan State played a "football game" in Columbus. It was pretty much this...
...over and over again.
Michigan also played a "game," but this one was of the other kind of "game" (i.e., the blowout kind). Minnesota, they are not good. They might not win another game and no they will surely not defeat Iowa the week before they--Iowa, that is--plays and beats us. No, this will surely not happen. Surely.
Wisconsin welcomes Nebraska to the Big Ten; the carnage was considerable.
The week after fifth
Florida begs for the end
Here you go, Les says
The Gators, once proud, limp into Death Valley. The final score is 41-11; they call it Death Valley for a reason.
Ron Zook's Fighting Illini are 6-0. Ron Zook to Illini faithful: The world is your oyster! Great things lie ahead, we simply must go out there and
not lose the rest of our games
seize the opportunity!
Oh Florida State...
I am disappoint
. This is the last season that I tell people you are going to be good.
Alabama meets Vanderbilt in Tuscaloosa. If Nick Saban had a soul or a sense of humor, in an alternate universe his pregame speech is thus:
Unfortunately, he does not have those things. Sorry. Hope a nice, tidy 34-0 strangling with no drama or emotion will suffice. If not, Nick Saban doesn't care about you and your "feelings."
Ohio State escapes Lincoln with a wi--just kidding.
Michigan travels to Evanston, where they will decide to play one half of football. Thankfully, Northwestern is Northwestern. Steve Watson's first--and last--catch of the year, a touchdown; rare moments exist among the ordinary dreck.
The week after sixth
The first punch always hurts most
No, really; Gholston.
4th & 1. Pick 6. The Spartans beat the "University of Whatever" for the fourth time in a row...some things will have to wait. The Big Ten Championship's "still out there", says Denard. It is, but where?
Penn State continues to stumble along like the Millenium Falcon, a 6-1 bucket of bolts. Parts are flying off as it hurls headlong into the Big Ten season having beaten everybody but Alabama, so it's working, sort of.
Indiana and Wisconsin take the field. Prediction? PAIN. Result? PAIN, but not as much as last year.
Iowa celebrates America, beats Northwestern (redundant?).
The Gamecocks enter Starkville and leave with a 14-12 victory. Lattimore, lost for the year...a Pyrrhic victory. Cowbells ring incessantly, a droning white noise that is probably what Stephen Garcia hears in his head when he tries to read a defense. Steve Spurrier walks the fairways on Sunday, pining for Danny Wuerffel. Those dang cowbells.
Alabama, LSU, Oklahoma, all trudge on in their parade of ruthless dominance. Trent Richardson
makes his case
in Oxford against the Washington Generals. Les Miles bludgeons a once proud Tennessee team in Neyland, the drama of the 2010 game a distant memory.
The week after seventh
The format is off right here
I think no one cares
Michigan rests. There is much to do and much to play for yet.
Big East football on a Friday night, the height of college football. West Virginia and Syracuse, interchangeable dreck. Flip a coin and place your bets.
Tommy Tuberville does what Tommy Tuberville does: TROLL HARD. A Texas Tech team that would not make a bowl game of any sort (not even the soul-crushing, ham-fistedly corporate ones) rolled into Norman and dropped 41 on the unsuspecting Sooners. Oklahoma hadn't lost a home game since 2005, but when they decided that had to end, they ended it in spectacular fashion. Oklahoma's secondary was porous, as sieve-like as Roberto Luongo when impressed with any sort of even vaguely pressure-packed situations. As they gave up 41 points at home, falling to a wholly inferior team led by a coach who could not be any worse of a fit, I thought back to all the times that Michigan had done this sort of thing and felt that thing they call sympathy.
Illinois, after winning its first six, loses to Purdue after losing to Ohio State at home. PURDUE. Ron Zook, just win one more and then you can partake in all the water sports you want in the offseason. You've got this under control, right? No, no you don't.
Eastern Michigan chugs along, asserting its dominance over the other directional Michigan schools. Ann Arbor roots for its downtrodden neighbor.
Oregon travels to Boulder, winning 45-2. The 2 is akin to the spare change you throw in the tip cup out of laziness; here, take these pennies. USC travels to South Bend; Notre Dame quits. Tennessee travels to Tuscaloosa, rings the doorbell and waits outside for what seems like 30 minutes. Eventually, Alabama emerges and punches Tennessee in the face and shuts the door.
Michigan State, in the spotlight in earnest. Impressively, the Spartans take it to Bielema's heretofore dominant but completely untested team. Ball goes down and it is decidedly not a great time to be a Badger fan (HURR). Then, this was a touchdown while Hemingway's at the end of the Iowa game was not:
Click through for post-bye week REAL GOOD TIMES.
The week after eighth
Toussaint reveals why he is
MICHAEL HART WITH SPEED
Texas A&M drops a third, faltering late in the game once again. This is what one begins to call a "trend."
Michigan State falters in Lincoln after two trying weeks in a row, a not unexpected result. There is hope for Michigan yet. Wisconsin, too, falters, this time in Columbus but again under similarly devastating circumstances. Wilson, again valiant near the end, brought the Badgers to a seemingly fortuitous point: up 4, 1:18 left, and an opponent with a freshman quarterback who had completed six passes before the final salvo, a mortar more so than a pass. Wisconsin was once again awoken from a bad dream, a cold splash of stadium-quality nacho cheese to the face; this was real. Wisconsin had gone from legitimate contender--a novel concept--to "just Wisconsin" in three weeks.
Florida and Georgia meet in the nexus of inebriated chaos that is the World's Largest Outdoor Cocktail Party, a name that has been shed out of political correctness but of course has done nothing to change the behaviors of the folks involved. The last time Georgia left Jacksonville victorious, the entire team danced in the end zone as yellow pieces of cloth rose and fell around them like comets of little consequence. That was 2007. It was cathartic then--having only beaten the nouveau riche Gators twice since 1990--and it is cathartic now. It always is.
Minnesota and Iowa meet, and like I said before, there's no way Iowa would lose to Minnesota the week befo--
wait, what
? Floyd continues to emit that dull bronze sheen in Minnesota, its nose to the ground and a subtle smirk revealing the bemused sentiment:
I shouldn't be in this dusty trophy case in Minnesota but here I am again.
Oklahoma flies at Kansas State in a tempestuous rage, killing it for simply being the first thing in sight after the previously detailed events wound down in Norman. The Wildcats did nothing wrong other than being in the wrong place at the wrong time, like Hamlet stabbing Polonius through the arras. Oops! At least Bill Synder will have had his cookies proffered to him the week before; via good old-fashioned sensible rationing and moderation, he surely has many left over through which to drown his sorrows.
Tommy Tuberville, the previously mentioned troll-like entity, naturally sent his team out to lose 41-7...at home. Against a Steele Jantz-less Iowa State. The week after dispatching the Sooners on the road. In Tuberville's SEC heyday, this was the equivalent of, say, Auburn losing to Arkansas.
And Clemson, thou art vanquished at last. Order is restored. And yet, if you told me in August that Clemson would start the season 8-0, I would've outright laughed at you. Clemson? HA, good joke, surprisingly clairvoyant guy. College football's unpredictability is its greatest asset, in and of itself and as a distinguishing factor vis-a-vis the NATIONAL. FOOTBALL. LEAGUE.
The week after ninth
Close calls in the cold Midwest
But not Wisconsin
Ohio State and Michigan State both limp through one-score victories against Indiana and Minnesota, respectively, at home. The Buckeyes have quietly stumbled to a somewhat respectable 6-3 record. Michigan State stumbles a bit but wins; the Michigan State of the past undoubtedly loses this one but not this year.
Florida beats Vanderbilt by five, at home, in front of a pathetically lacking homecoming crowd. The Gators look at themselves in the mirror, the stubble on their face no longer stubble but a riotous overgrowth of aggressive negligence. Florida splashes water on its face, to no effect. "What happened, man?" it asks the person in the mirror.
Northwestern comes to Lincoln looking to upset some homely Nebraskan folk. Northwestern typically does this sort of thing to Iowa, but Northwestern saw corn on the way in and assumed them to be one in the same. Nebraska, Iowa...Northwestern smells the hoi polloi and oh how they reek of Middle American mediocrity! Of course, the ridiculously named Kain Colter led the Wildcats to victory, and no one is surprised because the Big Ten has essentially become one big ACC/Big East-esque smorgasbord. Nobody really knows anything about anybody until the season is actually over, and, even then, one looks at the conference landscape and sees an amusingly small standard deviation.
LSU and Alabama...it was finally time after several weeks of buildup reminiscent to the November leadup to the 2006 Michigan-Ohio State game. We were promised football excellence and undisputed superiority, so much so that the outcome was almost deemed irrelevant (and when I say "almost" I mean "it was"). In a sense, we did see something spectacular on display. The defenses, talented and deep enough to stock two or three BCS-level defenses with quality and quantity (let's not worry ourselves for now with the reasons for why they are so deep), fast and powerful and unrelentingly purposeful in each and every movement. Yet, the game had a decidedly NFL feel to it, and that it almost always a bad thing. If both teams in a given game are about as prolific on offense as the Chicago Bears, something has gone terribly wrong. Alabama lost because they could not make a field goal, a flaw that is only enhanced by the juxtaposition of the undeniable superiority of Alabama's defense and running game. This is probably a faulty comparison, but Alabama losing this game on field goals kind of reminded me of a hard-fought hockey game that reaches the shootout stage; essentially, a glorified skills challenge. Still, they lost, and that's all that matters (except not because SPOILER ALERT:
every game does not count
).
The week after tenth
A darkness over Penn State
What is football now?
Michigan State returns to Iowa City, the scene of one of 2010's two beatings; this time, it goes differently. Ohio State visits West Lafayette, also known as the Afghanistan of the Big Ten, where
empires
traditional Big Ten powers go to
die
lose in embarrassing season-derailing fashion.
Texas A&M, another overtime loss...5-5. The pristine time of untainted preseason praise seemed to have happened years ago, like a dream that litters reality with its parts abominably, like a plate of Skyline Chili.
Oregon, who had been lurking in the shadows after experiencing the full effects of Les Miles voodoo in Arlington, came to Palo Alto and reminded Stanford that they were the new guys on the block way before they ever were. Four years ago, Oregon was incinerating everything in sight en route to a probable BCS title game berth until Dennis Dixon went down in Tucson. At the same time, Stanford was but a carefree infant child of a program, pooping its pants nonstop with no repercussions. Aw, it's Stanford, it doesn't know any better! Oregon cut through Stanford's defense and Andrew Luck's Heisman hopes in one fell, brilliantly orchestrated swoop.
UCLA goes to Utah and loses by 25. Rick Neuheisel packs his bags in his mind; where he'll go he doesn't know.
Speaking of bags being packed...Ron Zook. That is all.
The week after that
Chaos reigns supreme again
Rematch, chants Dixie
I remember thinking that
Oklahoma State's two matchups leading up to Bedlam
--Texas Tech and Iowa State--were quintessential IT'S A TRAP games. At the same time, I never expected the Stillwater I'm A Mans to drop either one; sadly, for college football fans everywhere,* this was not the case. I didn't even watch this game, it being tucked away secretively on a Friday night time slot. Nobody noticed until the next morning, and when they did they found the BCS's festering body pervading the atmosphere with a deadly stink like Father Zossima (oh yes, I just dropped that.../mic drop).
Alabama warms up for its in-state foe with...Georgia Southern. Now that's a schedule I'll tell you what.
Notre Dame, better Catholics than BC by two points. Notre Dame sits at 8-3, and yet, the season has
undeniably been a failure.
Florida State, after restoring some credibility and honor after losing three in a row earlier in the season, loses at home to Mike London's Virginia. This isn't as bad as it sounds--Mike London can coach--but Florida State, like ND, has drowned under the weight of history and expectations once again.
Oklahoma and Oregon fall again, Oregon to a familiar foe and Oklahoma to the supernova that is Baylor football; its at its brightest under Robert Griffin III, and once he's gone you can expect it to explode and revert back to nothingness. But, for now, pull up a chair and watch the show. Even though it began way back against TCU, RGIII's Heisman drumbeat began in earnest after he finished
dropping 45 on the Sooners
.
Michigan comes out and dominates, like the days of old, against a new but familiar foe. Michigan has already exceeded expectations from every potential angle of consideration. People are happy with the way things are. Try to think of the last time that was the case; it's been a while. And yet, with one more left on the schedule, to not finish with 10 wins, or, nine wins and an exercise in redemption, would be wholly unsatisfying. Things I learned that day: Michigan is pretty darn good again and a majority of Nebraska fan seem to be a) enormous and b) exceedingly nice.
*Not valid in West Central Alabama.
The week after twelfth
Redemption draws near, is close
Whisked away at high noon
This the week in which everyone hates everyone. Alabama, Georgia, West Virginia and Pennsylvania, Michigan and Ohio, South Carolina, Oklahoma, Texas, Florida, Indiana, Mississippi, Oregon, Washington; these are some of the states mired in mutual unrelenting hatred so strong that its remnants are the only things that will seem to remain when the end of the world comes. Even when the teams aren't great, the stage and the history behind them lift them up for that day. This is the week that truly separates the college game from the pro game, as if you needed any other reasons to reasonably assert the superiority of the former. On this day, hate begets hate begets hate in an endless feedback loop.
Arkansas, a top three team almost by default, deludes itself into thinking that they had a chance in Death Valley. They did not have a chance. They never had a chance. Even when they were up 14-0, the game was already over. LSU didn't even need the night.
Texas and Texas A&M play for perhaps the last time in a long time. It is wrong and hard to understand but this is the age in which we live. Stacks of green paper are thicker than blood. Texas A&M, on its way out the door, gives Texas just enough time to give it a swift kick where it hurts. Texas, despite the failures that were the 2010 and 2011 seasons, glowers delightedly, as much as someone can glower while also experiencing an intense form of happiness. With a smile they say Goodbye to A&M. There is something so objectionable about the end of such a thing on the back of such petty premises. Adieu, A&M-Texas, adieu.
Alabama meets Auburn in Jordan-Hare, but the friendly confines of home are unfortunately not enough to shield Auburn from the coming storm. Cam Newton is but a memory, a fickle specter; Trent Richardson is far from a specter. He is a cold reality.
Georgia shows up in Boddy Dodd Stadium yelling NEERRDDDDDDDS for 60 minutes. Georgia Tech does nothing to stop them from doing this.
Florida and Florida State duke it out in Gainesville like two over-the-hill boxers, stumbling over their own feet and speckling the mat beneath them with blood and sweat. Their faces are familiar but their actions are slowed and pathetically reduced to a plane that belies the typical vitality of this game.
Kentucky finishes 5-7 but their last win might've been worth several undefeated seasons by itself. They hadn't beaten the Volunteers since the Reagan administration. There's something to be said for persistence.
And then there's this:
Week the last, alas
Championship games are played
But who cares...rematch!
UCLA and Oregon meet in a FOX-produced farce of a championship game. This should be USC but because of Reggie Bush, a depressed, resigned Neuheisel-led team takes its stead. It goes exactly as you'd imagine. Gus Johnson screams like he's witnessed a murder as UCLA tight end Nelson Rosario scores with under two minutes to go to cut the deficit...to 18. Never change, Gus.

Southern Miss meets Houston and says "not impressed." Perhaps more enlightening than the game itself (we all knew Houston was what it was) was this exhange:



How a representative of ESPN can make a comment like this--ESPN, an enabler of the grotesque Frankenstein of a system that currently exists--is truly hilarious. LARRY FEDORA, Y U NO LOSE.
Baylor destroys the Longhorns, and RGIII, in the minds of many, has won the Heisman. Read that sentence again, because there are so many ridiculous things going on in it.
LSU seals its title game appearance in the Georgia Dome despite the fact that a loss may or may not have resulted in a rematch anyway. Like the Arkansas game, Georgia jumped out to an early lead only to be subjected to death by Honey Badger. Even without any semblance of an offensive attack, LSU toys with teams in a way that's remarkable and terrifying to watch (depending on your vantage point). Mike Gundy's squad eviscerates the Sooners in Stillwater, trying to make its case to a body of voters that have mentally entrenched themselves since November 5th. Alabama watches at home from the couch as all of this happens.
Clemson beats the Hokies a second time, ending the most un-Clemsony season in recent memory.
Bielema and Dantonio meet again, only this time on the neutral grounds of Lucas Oil. Punch counterpunch punch. The Spartans fight valiantly and for the second time appear to be better than the more highly regarded Badgers...that is, until Russel Wilson, on 4th and 6, delivers a bit of MSU's own medicine. Gus, take it away:
Wisconsin, not Michigan or Ohio State, wins the first ever Big Ten Championship Game. Somewhere, Bo and Woody sit, confused and perhaps more than a little bit agitated at this fact.
---------------------------------------------------------------------
Then there was Army-Navy, and then the bowls began. Some of them have been good (LA-Lafayette-SDSU, Ohio-Utah State), all have been nothing more than absurdly transparent money grabs built on the backs of teams who, bless their hearts, have no business playing any sort of post-season game. As exciting as the year was--in spite of the noticeable and somewhat head-scratching dip in overall quality from top to bottom--multiple cracks in the system continue to lengthen and deepen in the bell that is the system, producing an inconsistent and irregular sound when rung.
Michigan is going to New Orleans, returning to the Sugar Bowl for the first time since Bo Jackson carried the ball for Auburn against a small but feisty Michigan defense. Everything is good; even the disappointment that is an Alabama-LSU rematch cannot impinge upon the happiness that this season has given me.
The season is not yet over, but before the planet completes its revolution around the Sun, bringing us hurtling into 2012, it's appropriate and necessary to say farewell to the year that was...and so, I have. It seems that the Western Michigan game was only yesterday, and that, as I get older, the seasons pass much quicker than they once did. Such is the curse of getting older.
It is an unfortunate reality, but so it goes. And so, in the midst of this relative lull in the college football season, I look back and remember. What a year it was.