Michigan 59, Iowa 75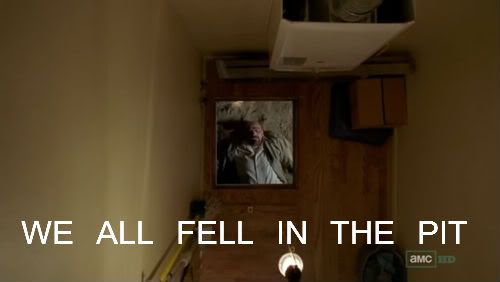 It seems that
predicting
things
is not my forte...Phil Steele I am not. I assumed that Michigan had progressed to the point that losses like this wouldn't happen, but I look around the conference and see the Spartans dropping one at Welsh-Ryan and the Hoosiers losing at home to a bottom-third of the conference Minnesota squad and feel a little bit better, but, not by much.
This one will be a little bit shorter and less comprehensive than the other recaps because there are only so many ways you can express "That was bad" while not being completely annoying. Also, there was a certain point in the second half when I was paying more attention to the Hawks-Wings game playing on my computer, and that in and of itself says something.
Of course, there is nowhere else to logically start but Beilein's adherence to the "two fouls and it's off to Siberia for you" game theory nugget. As Ace mentioned on Twitter, Burke is averaging 1.8 fouls a game. Sort of like the "would it have really changed things?" question vis-a-vis Jarrett Lee in the MNC game, there's no way of knowing if Burke not sitting out for as long as he did would have resulted in a win or even a competitive second half. With that said, Michigan was
down four when he went out
and went on to enter the half with a 10-point deficit. It was never really a game at any point in the second half, either. As much time as I've spent fretting about Burke's heavy minutes in the non-conference, seeing a miniscule by comparison "27" next to minutes played on his stat line--paired with 19 points in that short time--is a little bit frustrating. This is the game in which Beilein's propensity to bench on sight when a player accumulates 2 fouls becomes somewhat of a problem. If Michigan is a team with quality depth, then maybe this isn't a problem; alas, they are not that team. This tactical choice is the basketball analogue of punting from the opponent's 35.
Point the second: the offense and Jordan Morgan. I understand that Morgan is not a pure, back to the basket scoring threat, and he likely never will be. The Wolverines will have to wait for Mitch McGary's arrival to have that as an option. While Morgan has his issues with the ball in his hands, there have been too many games--to the point that it is an out and out trend and not just a product of the "flow" of a given game--where Morgan will only have a couple field goal attempts well into the game. The offense needs to get him involved in some way other than hoping he gets some easy put backs. Iowa's Aaron White, who I thought was Iowa's closest thing to a Jordan Morgan type player, scored 12, largely on the back of 10 attempts from the FT line. There's no reason why Morgan can't be involved in that way. I hate resorting to sports cliches, but Morgan is a player that seems to desperately need to see the ball go in before he starts believing in himself. Otherwise, he is generally invisible, partly due to his skill set but also because he just doesn't see the ball unless it is careening off of the rim after an ill-advised three.
Point the third: road games. In the Middle Ages, serfs commonly never traveled outside of a tiny slice of land throughout the course of their entire lives. While this was the case for a number of reasons--one being that feudal lords were kind of like the University of Texas of their time, personified--one was that the outside world was a dangerous, warring place, and venturing out into it was often as imprudent and likely to yield misfortune as a life of continued miserable agricultural servitude would. The aforementioned was a stupid analogy indeed. Hitting the road has been a dicey proposition for Michigan (as is the case for most teams, even really good ones), but we will have to grab a few road wins at some point in order to keep our heads above water.
As I said in the preview, road wins are quality wins no matter the opponent. This was especially true against an Iowa team that has given us problems of late. No game on the schedule is a gimme (except maybe Nebraska?), and Michigan will need to really bring it against the dregs of the conference if they want to avoid the horrible fate of missing out on a tourney bid. I'm not saying that's a likely outcome whatsoever, but I think Michigan's top 15 ranking has lulled us into a sense of deservedness that just doesn't line up with reality. What happens tomorrow night in Crisler will go a long way toward determining what sort of team we'll be watching the rest of the way.
Player Bullets, Also Known As "Trey Burke And Those Who Are Not Trey Burke":
Burke--Insert the aforementioned benching rhetoric. Otherwise, scored the ball relatively efficiently given his minutes, scoring 19 and going 5/6 from 2. Three-point shooting continues to be mediocre, as he went 2/7 from beyond the arc. The much-circulated talking point among various personalities proclaiming that Burke>Morris because of the ability to shoot might be losing a tiny bit of traction, although Trey is still shooting 34% as opposed to Darius's 25% last season. Also, only had 3 assists (Michigan had nine total, compared to Iowa's 18). We are not going to win like that. Morris's ability to simply create space via his frame and a sheer force of will is becoming increasingly missed as the offense completely bogs down from time to time.
Hardaway--After a strong performance from outside against Northwestern, THJ reverted to his previous shooting form, going a turrible 0/8 from 3 and 2/13 overall. The gripes continue to be the same re: THJ's game. At this point, I wouldn't be surprised if conference-wide scouting reports tell defenders to sag and dare THJ to take the three from now on. A brief 2-minute period in the second half in which THJ made three trips to the line, with a dunk in that span, gave me hope that he was deciding to enter SEARCH AND DESTROY mode. Unfortunately, that did not happen. THJ's affinity for the 3 is akin to a bag of Costco brand cheesy poofs that aren't very good but your hand keeps going in the bag regardless and then 30 minutes later you realize you've eaten the entire bag and approximately 3,000 calories in the process and your fingers are tinged orange no matter what cleaning agents you use to eliminate it and OH HOW DID THIS ALL HAPPEN SO FAST.
Novak--Ace mentioned on Twitter that there was a play where Zack seemed to be "loafing"...the game is a haze and I don't remember the play in question, but, if true, RUN TO THE HILLS. If Zack Novak isn't being gritty at all times then we have no shot. However, an efficient output of fourteen points on 5/10 shooting (4/8 from 3) might be the lone bright spot of this game.
Smotrycz--A true clunker of a performance, as if this game was meant to be held up as a hyperbolic example of the infrastructural flaws in Evan's game. Smotrycz's stock has crashed precipitously, not unlike Notre Dame football after Week 2 this season. He has become an "X factor," and not in a good way. Rather, his performances have been either "really bad" or "really good" as opposed to steady with occasional bouts of brilliance. We need him to be the latter. Michigan simply has no chance against anybody with Evan putting up a goose egg and THJ going 0/8 from 3.
Morgan--Frustrating to say the least. As mentioned, he will never be a pure post-up threat, but he will never improve upon his admittedly limited bag of tricks if we don't get him the ball in some form or fashion.
Douglass--I kind of want to stop talking about this game but I guess I might as well just hunker down and finish this post. He went 3/6 from the field (2/3 from 3), which is nice if he can keep it going with a modicum of consistency. This might be the time to give him some retroactive praise that I forgot to give him in the Northwestern recap; he did an excellent job defending Drew Crawford. Crawford had a much tougher time after THJ rotated off of him. I'm not sure if this is a good thing or not, but he is definitely our best defender. I just wanted to make sure I said that after looking back and realizing that I was maybe overly harsh on his performance last Wednesday.
Vogrich--Zero points, 1 attempted three. Did grab three boards in his continuing quest to be a sneakily effective rebounder.
McLimans--Am I irrational in saying that I'd like to see him get a few more minutes? Not that he's an overwhelming force on either end of the floor, but, he is tall. HE'S TALL, GUYS. When Smotrycz and Morgan comprise the entirety of your team's relevant bigs, you're kind of in trouble. The sky is blue, water is wet, and so on.