Brian at MGoBlog linked to
this piece from the
Daily
on Dave Brandon yesterday, a thing titled "Just Call Him Dave Brand-It".
I just don't understand people. Am I crazy to think that Dave Brandon, on a macroscopic level, has been a very good AD? Scoreboards, Big Chill, UTL, Brady Hoke, increased pay for coordinators in line with other big name programs, facility improvement, the lacrosse program's jump from club status to Division I,
attempting to address student apathy
(re: athletics attendance) etc. I mean, my goodness:
are you not entertained?
Of course, people on the Internet ignore these things, instead focusing on by and large cosmetic things and slippery slope-based complaints. It's almost as if people like to complain about minor things (yes, JERSEYS, fergodsakes), as well as things that haven't even happened yet...oh wait, that is exactly what people are doing.
My question is: how representative of the fanbase are these sorts of fans? I honestly have no idea. As much as I love MGoBlog and the Michigan blogosphere as a whole, these places can be somewhat of an echo chamber. I suspect that the people claiming to speak for the fanbase as a whole when defending Michigan's inviolable traditions do not actually represent as many folks as they think they do.
As for the article itself:
From the man that brought you the 5-5-5 deal and excessively honest advertising at a mediocre pizza chain comes the Michigan Football Legends patches, gaudy new uniforms and athletic events marketed like Broadway shows.
I will admit that I find the current advertising efforts at Domino's to be more than a little eye roll-worthy, Rothschild is complaining about
cheap pizza and advertising that is honest in nature.
That is all you need to know right there vis-a-vis the psychological perspective of the anti-DB subset of the fanbase.
The following is not meant as a wholesale endorsement of John U. Bacon's
Three and Out
by any means, but this sort of reminds me of the passage in that book in which Rosenberg's immediate and visceral distaste for RR is described. Rosenberg, when running into Jim Brandstatter in the parking lot after RR's first press conference, said (p. 84): "I don't like that guy. I don't think he belongs here."
Here's the beat-you-over-the-head version of the aforementioned: COMPLAINING ABOUT PIZZA BEING CHEAP AND CORPORATE FOLKS EVEN ATTEMPTING TO PORTRAY SOME SENSE OF HONESTY, EVEN A CONTRIVED ONE, IS THE DEFINITION OF COMPLAINING FOR THE SAKE OF COMPLAINING, I.E. "I DON'T LIKE THAT GUY." /disengage caps lock
More fun times:
It seems that more and more, Brandon is making a deal with the devil — earning millions more dollars for the Athletic Department at the expense of the vaunted tradition of Michigan athletics.
Translation: HERPITY DERPITY FLURPITY TRADITION MCHERPITY.
Last year's night game between the Wolverines and Notre Dame wasn't just Michigan's first home night game. No, that wouldn't be enough. It was: Under The Lights. Oooh. Ahhh.
And 2010's outdoor hockey game between Michigan and Michigan State couldn't have just been Michigan Stadium's first outdoor hockey game. No, it was The Big Chill at The Big House — presented by Arby's. Golf applause.
Pointless, trivial, semantic, wrong, etc. You get the idea. The rest of the piece follows as such.
---
I would say that I'm sorry, but, really, I'm not: the mindless distaste for Brandon's doings, no matter what they are, is really not that different from Rosenberg's distaste for RR. They're both marked by irrationality and a sense that this interloper is doing away with the very things that supposedly define Michigan (nevermind the fact that the assumption that any one person knows what these things are is ridiculous). You know, "tradition" and such, a word that has over time been rendered a sad, desiccated entity lacking any sort of real meaning.
I don't agree with every single thing that Brandon has done. I also don't want to make it seem as if I've trying to be completely dismissive of the belief that DB's
EVIL
corporate background might end up being a bad thing eliciting legitimate criticism at some point down the line. I don't want a mascot, I want Michigan's last game of the season to be against Ohio State, I don't want ads displayed prominently within the stadium, I think "Sweet Caroline" is terrible, etc.
It comes down to two things: a) people think that Michigan is above "marketing" because we supposedly have innumerable Scrooge McDuck-esque vaults full of cash money and thus shouldn't stoop to such base levels and b) people just like to complain about ancillary, fairly pointless things like jersey designs--even though Michigan has experimented with jersey designs in the past (e.g.
white pants
, different shades of maize, gradual reformulation of the helmet wings, etc.)--because they're points that can be articulated easily and explosively.
Don't advertise, don't market, don't try to find new revenue streams**, don't raise ticket prices, don't attempt to appeal to the younger generations of fans...but definitely get us that new practice facility and stadium renovations right away! Right.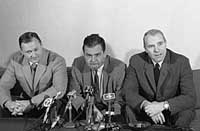 Don Canham, the Dave Brandon of yesteryear wait what but tradition this can't be (via Bentley)
Anyway, this subject isn't worth much more treatment than this. Like Rosenberg, it appears that those that dislike Dave Brandon, no matter what he does, will continue to do so quite mindlessly. Thank goodness we're less than two weeks away from real football. Until then, I will have to generally look like this whenever the anti-DB-NO-MATTER-WHAT campaign rears its nonsensical head, a grotesque head fashioned from bits of old leather helmets and bleacher seat cushions.
**MONEYYY BAD NOOOOOOO