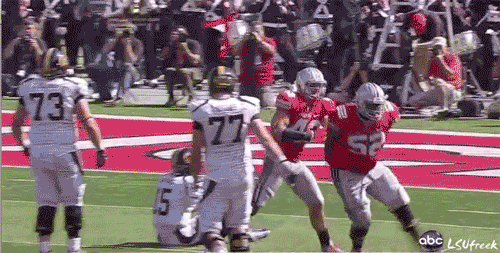 Another week of college football came and went, and although we are still stuck in the mostly barren wasteland that is non-conference play, there were more than a few upsets this week. Virginia Tech somehow fell to a horrific Pitt team, Michigan State fell at home to Notre Dame, USC took a loss in Palo Alto, Ohio State almost lost to a seemingly mediocre Cal squad, and Utah bounced back from their loss against Utah State to pick off BYU in the Holy War in what was
a mostly nonsensical finish
.
We're still approximately a week or two away from these rankings not being a completely formless sea of shifting tectonic plates, but for now this will have to do.
| | |
| --- | --- |
| | |
| | |
| | |
| | |
| | |
| | |
| | |
| | |
| | |
| | |
| | |
| | |
| | |
| | |
| | Ohio State |
| | |
| | TCU |
| | Michigan State |
| | |
| | Michigan |
| | UCLA |
| | |
| | Arizona |
| | Northwestern |
| | |
| | |
Out
: Virginia Tech, Tennessee
Idle
: Oklahoma, Oregon State, Colorado (JUST KIDDING they played, allegedly)
With a powerful running game (forced to dip into secondary options once the starter got dinged up) and a staunch defense and special teams, they completed their third victory in a row against BCS competition this season. Who is this defensive/running game juggernaut of which I speak? Alabama?LSU, maybe? Of course, I am talking about none other than the Northwestern University FIGHTIN' FITZGERALDS. The Wildcats have been a shining light amid a sea of darkness for the Big Ten thus far this season; with games against South Dakota and Indiana coming up, a 5-0 start is all but assured for the warrior poets from Evanston. The Wildcats have gone with the Brady/Henson arrangement at QB with Kain Colter and Trevor Siemian, and there's a good chance that Siemian will eventually be "the guy." Anyway, bask in the warm glow of the Warrior Poets' battle hymn:




Elsewhere in the Big Ten. Ohio State, following the "hey let's make the quarterback do everything" style of play that Michigan has perfected the past three seasons, required a 72-yard strike from Miller to Devin Smith in the late stages to finally put away a Cal team with a loss to Nevada to its name. Wisconsin continues to be Bizarro Wisconsin, with nary a running game to be found; they required a missed field goal to beat the Aggies of Utah State in the final seconds. That's not a good look. Indiana did what Indiana does, and by that I mean lose to Ball State. Michigan State could not do much of anything against an Irish team that might actually be rounding into a legitimate team that could do some real damage if not for a brutal schedule the rest of the way. Otherwise, everything else went okay: Penn State got its first win, Minnesota is now 3-0, a Burkhead-less Nebraska team dealt with Gus Malzahn's Arkansas State squad, Purdue decidedly did not respect The Process en route to a thumping of EMU, and Iowa lost another tailback in an ugly win against their buddies from Cedar Falls. WOO, FEEL THE EXCITEMENT OF BIG TEN FOOTBALL.
Hey Alabama: maybe chill out a bit, okay. This is all just for fun. I did not watch this game, but this is pretty much the definition of the game that you can consume via osmosis. "Oh, did you hear about Arkansas?" *exchange of uncomfortable looks* "Yeah..." Sure, Arkansas was without Tyler Wilson, but if the relevant picture in this SMQB "Agony and Ecstasy" post is any indication, Wilson probably dodged a bullet by not participating in this one anyway.
"I'll be deep in the cold, cold ground before I recognize Missourah!"Actually, not really. I like Missouri and think they should be just fine in the SECE, last week's game against UGA notwithstanding (which was a ballgame until the curious fake punt call by Pinkel). James Franklin (not the Vandy HC) was out, leaving the door open for backup Corbin "Most Likely Name For a Birkenstock Enthusiast" Birkstresser, who did alright against an Arizona State defense that inceptioned many nightmares into the brains of Illinois' backup quarterbacks. He only went 21-41 with a YPA of 4.8 and 1 INT, but he did pitch in a TD on the ground. Who knows if ASU is any good at all, but Mizzou held serve at CoMo and that's all that matters. Having a +3 turnover margin and holding your opponent to 2-12 on third down is a pretty easy path to a W.
Thomas Jefferson ain't walkin' through that door. Another team/coach that I was a fan of coming into the season: UVA and Mike London. Unfortunately, that mostly irrational liking has taken a bit of hit thus far this season. The Cavs were fairly lucky to beat Penn State, and this past Saturday's 56-20 loss at Georgia Tech...is not a good luck. I bought into the Mike London hype train and decided to mostly ignore the fact that UVA would have to replace quite a few starters, but oh well. You're going to completely misread at least a few teams each season, and UVA definitely falls under this category for me. Still, they're 2-1, so all is not lost.